Benefits
Nuke and the Economy

One kilogram of Uranium is worth $132 US dollars. This is equivalent in energy to 5,000 tons of coal, which is worth $169,000 dollars. Of course, raw uranium cannot be used as fuel as this has to be converted into fuel assemblies, which is approximately 6X the value of uranium. Therefore, $132 X 6 is equal to $792 USD (say $1000 USD) of uranium fuel assembly vs. $169,000 worth of coal. Herein lies the extreme cost and material advantage of nuclear power vs. fossil fuel power.

Nuclear power plants may have higher capital cost but they have extremely low running costs resulting in cheap power. One billion dollars for a 620 MW nuclear power plant is a bargain considering that this is about the cost of a new coal thermal plant, which will have between 2 to 3 pesos per kwh electric generating cost disadvantage. Since BNPP will generate 4.5 Billion kwh per year, this will work out to be P9 to P13.5 Billion pesos of disadvantage per year for the new coal plant, not to mention the 4 to 5 year construction time.

We have all heard about Al Gore's "An Inconvenient Truth". Unfortunately, there is a "Second Inconvenient Truth," and this is the fact that for the world to address the first inconvenient truth, it will have to vigorously control carbon emission. The only way to achieve this, according to Nobel Prize Winner Mark Jaccard is for the world to impose taxes on carbon emission. Should this happen, those countries without nuke power will suddenly find themselves in an extreme economic disadvantage. Are we going to wait for this to happen? Can we not see the handwriting on the wall?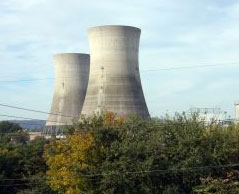 Waste of Nuke Energy

Contrary to what people probably imagine, a nuclear power plant does not produce a mountain of waste in the form of powder or dirty liquids. The truth is, the volume of 'waste' or 'spent fuel' that will come out of a plant, the size (620 MW) of BNPP for a year of operation, will weigh 20 tons, and because of its high density, will fit into a small truck. Further, it will be in the same form as it was when it entered the plant as fresh fuel, i.e: a fuel assembly bundle which is non water soluble. This is yet without re-processing, a technology which would further reduce the 'spent fuel' volume possibly 10 times less. The world nuclear industry is moving towards reprocessing and breeding being led by countries like France, Japan, and emulated by many others. These technologies may mean the complete consumption of spent fuel in the future possibly making the issue of nuke waste moot or close to moot.

The issue of 'spent fuel' or 'waste' disposal is no longer a technical issue as there are now a multitude of proven and tested technical ways to dispose of nuclear waste. Unfortunately, the issues regarding spent fuel or nuke waste are political in nature rather than technical.

In the Philippine setting, one possible solution which is immediately implementable is that of Dr. Caloy Arcilla of the National Institute of Geological Sciences (NIGS), wherein he proposes finding an uninhabited island in a geologically stable area in the country. The spent fuel could there be disposed in large bore deep geological burial at between three to five thousand meters (3 to 5 kms) deep with the top three thousand meters (3 kms) to the surface being back filled with a mixture of mud, bentonite, and concrete. Such a solution would rid us of the spent fuel (waste) with safety, finality and forever.

HB4631 suggests that $0.001 or approximately 5 centavos per kwh be collected and deposited in our treasury in a mix of US dollars and euro to prevent value erosion in case of peso devaluations. P10Billion pesos will be accumulated in a span of 40 years. This is P250M for every 20 tons (one small truckload) of spent fuel or waste. Since BNPP is designed to safely store 20 years worth of 'spent fuel', there will be adequate funds for this, not coming from taxes, but rather from the revenues to be generated by the operation of BNPP.

A similar scheme is proposed for BNPP end of life decommissioning. However, the fund is larger at $0.0015 per kwh or approximately 7.5 centavos. This will amount to approximately P15 Billion in 40 years or P22.25 Billion pesos in 60 years. Again, more than enough to get the job done. These are amounts which are standard for these purposes in the international nuclear power generating industry.
Nuke and Renewable Energy

If renewable energy, i.e.: wind, solar, tidal and wave sources are of baseload quality, and are economically competitive with nuclear or fossil-fuel power, we would not need to file this bill today, there would be no need to run BNPP or any nuclear power plant.

However, the fact is:
Wind the cheapest of the renewables requires an investment which is 4.5 to 7.5 X the investment that is required for either nuclear or fossil fuel power. This does not include the power lines, roads, large land areas (25 thousand hectares/620 MW) nor does it include the stand-by 620 MW needed when the wind dies down. It also does not take into consideration the fact that wind requires maintenance and has a much shorter commercial life span than either fossil or nuclear;


The renewable, excepting possibly geothermal, are not of baseload quality;


The technology to store electricity from these sources and so make them baseload quality are not currently mature enough to be economical and reliable. Wind however has a special place in our energy mix such as: missionary supply, off grid demand, supplementary or complimentary power sources especially in the presence or existence of electric storage capacity such as "pumped storage". Unfortunately, these are rare or non-existent in the country today.


Geothermal is also more expensive than the rehabilitation of BNPP. In addition, it has its sets of environmental issues such as: requiring large tracks of land so that geothermal fields may be developed. The largest single wells are of 50 MW size with the smaller ones at 5 to 10 MW each. This means many wells to complete a 620 MW field. These all need to be interconnected to run the generating machinery.
Further, geothermal fields emit hydrogen sulfide and sulfur dioxide gasses which turn into sulfuric acid being especially aggressive to the respiratory system of humans and animals and to the immediate environment causing for example the rapid corrosion of GI sheet roofing materials and motor vehicles. It is also conceivable that amounts of radon gas, traces of uranium, thorium and radium are given off by this energy source. Geothermal fields are also very site specific. Meaning they are usually located at great distances from points of use, necessitating long power lines and road infrastructure which are not covered in their investment cost.

Therefore, the only realistic choices left to us at this point in time are: fossil fuel power, nuclear power, and geothermal in select cases. Given the previous statements about the harm fossil fuel is causing to the earth and given also the previous statements, especially in regard to forex savings, not to mention the much lower price of nuclear electricity vs. fossil electricity and the much higher reliability of nuclear vs. fossil fuel plants, the only conclusion we can arrive at is that therefore, nuclear power must play a major and growing role in the country's energy mix.

Nuclear power will be our bridge to the next clean energy source to be invented by man whether these be the renewable, fusion, or whatever else: Only God knows. But whether it takes 50 years to a thousand years to happen, nuclear is capable of taking us there while avoiding catastrophic climate change.
Anti-nuke rhetoric

We believe that we have answered many of the enumerable untruth and outright lies about nuke power, its safety, its reliability, and its cost. However, there maybe too many to cover in this short space.
Among other things, the most ridiculous that we have heard is that the dormant Mt. Natib will wake up if BNPP is operated and made to run. We challenge any self-respecting scientist to agree with this assertion. It is absolutely not connected and outrageous. This just shows how low the anti-nuke lobby will stoop to in the furtherance of their misguided agenda and how certain groups have abused their power of hegemonic pluralism.